The 2017 Pool Season begins on May 1 and runs through September 30.  We are hard at work making improvements to the pool. Among other changes, this year will feature an expanded deck behind the diving board. We have also updated our diving board with a galvanized stand. "So what" you say? Well, believe me, if you've been on the board, you'll appreciate our new rust-free zone.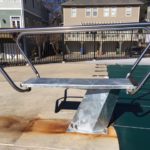 To the left is our newly galvanized diving board stand. No more risk of getting tetanus when diving off the board. The stains on the deck evidence what an improvement this will be.
As always, the pool will be open to adults from 6:00 AM and for children beginning at 9:00 AM. The pool closes at 9:00 PM.
Life guard schedule:
May 1 – May 30
Monday – Friday  3:00 PM – 8:00 PM
Saturday – Sunday  11:00 AM – 8:00 PM
June 1 – August 7
Monday – Sunday  11:00 AM – 9:00 PM
August 8 – September 30
Monday – Friday  3:00 PM – 8:00 PM
Saturday – Sunday  11:00 AM – 8:00 PM